Each year, nearly all of Maine's credit unions participate in the Maine Credit Unions'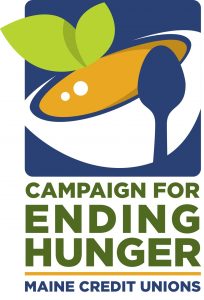 Campaign for Ending Hunger.  Since 1990, the year that this collective effort began, Maine's credit unions have raised and distributed more than $8.5 million to help end hunger in Maine.
To make a tax-deductible contribution to the Campaign, please visit your local Maine Highlands FCU office, or mail a contribution to the address below.  Make checks payable to:
Maine Credit Unions' Campaign for Ending Hunger
c/o Maine Highlands FCU
PO Box 233
Dexter, ME  04930-0233
(Receipts provided per request)
100% of all funds raised stay in Maine and go directly to help end hunger, making it the largest philanthropic fundraising effort for ending hunger in Maine by a non-hunger organization.
Every credit union that participates in the Campaign receives at least 100% of the funds it raised back to distribute to the hunger organization(s) of their choice. The remaining funds are contributed to hunger initiatives that have a statewide impact.
Credit unions began raising money for Ending Hunger in 1990. 2019 marks the Campaign's 30th year! Since its creation, Maine CUs have raised over $8.5 million to combat hunger in the state.
The total funds raised by the Campaign has increased every year.
In 2018, every Maine CU contributed financially to the Campaign for Ending Hunger.

$792,900.68 was raised through the Campaign for Ending Hunger in 2018, a new record and $52,874 more than was raised in 2017.
285 organizations across the state received financial assistance.
96 credit union branches in 90 cities and towns were stops on the annual Walking Tour.
503,380 pounds of food collected in Maine's CU sponsored High School Spirit Challenge.
About Hunger in Maine
Several groups are found to be at greater risk of hunger in Maine: children, low-income families; disabled persons; persons with special needs; the elderly; and people living in rural regions and the inner cities of Maine's largest urban places.
Many factors contribute to hunger in Maine including income growth that is outpaced by the cost of living; a high level of underemployment; widening gap between rich and poor; rising utility and medical costs; and lack of consumer information on nutrition.
82,000 school-age children in Maine qualify for free and reduced price meals. This is 47% of all children in our public school.
1 out of 5 children in Maine are food insecure and 18% of Maine children live in poverty.