Contact us immediately if you feel your card is lost or has been stolen.
During Business Hours
207-924-5544 or 888-806-6920
After Business Hours – Debit Cards
Inside U.S.  800-472-3272
Outside U.S.  973-682-2652
Think of it as "Plastic Checking"
Use it as an ATM card to access your accounts at participating ATMs around the world. Then, for added convenience, use the card at a point of sale wherever the VISA Debit Card is accepted. The amount of your purchase will be automatically deducted from your account.  Also, enjoy free SURF ATM network use – Access to the largest surcharge-free ATM network in Maine with over 260 ATMS!
To ACTIVATE your card OR to Choose Your Own PIN
Dial 800-992-3808 – MUST CALL FROM TELEPHONE NUMBER ON FILE.  (All information on file must be accurate.)
Receive a phone call, text, or email if suspicious activity occurs on your debit card.
Visa Secure Remote Commerce (Visa SRC)
Easily pay online with Visa SRC at your favorite stores.  Click here to enroll in Visa SRC.
Visa Alerts
Get a text or email whenever you pay with your Visa card.  Click here to enroll in Visa Alerts.
Visa Account Updater Service
Provides automatic updated account information to participating merchants when processing your recurring payments.  For more information on Visa Account Updater Service or to opt out, click here.
Q: What is the benefit of a chip card?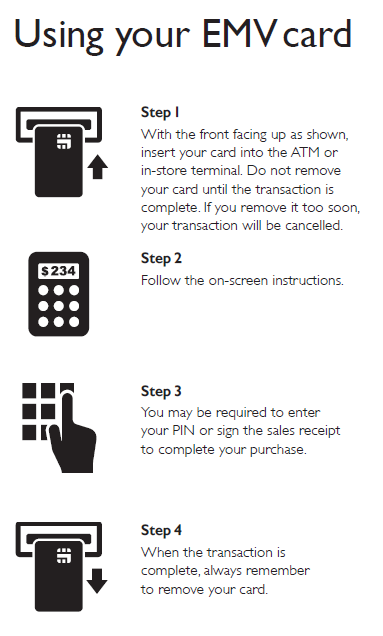 A: Chip cards are a standard payment method around the world, so having this feature makes purchasing abroad much easier.  A card with a microchip is more secure than one with just a magnetic stripe on the back because the account information is encrypted in the chip making it more difficult to fraudulently copy the card details.
Q: Will my card work outside the United States?
A: Yes.  Your chip card will work at merchants processing transactions using a chip-enabled terminal or using a magnetic stripe reader.  Your chip card can be used anywhere in the world where Visa cards are accepted.
Q: Can I use my card for everyday transactions domestically?
A: Yes.  In addition to the embedded microchip, your card has a magnetic stripe on the back.  That way you can make purchases by swiping your card and signing the receipt.  You can also use your card at ATMs.
Q: Now that I have a chip card should I continue to notify you before I travel internationally?
A: Yes.  Advance notification will help ensure that legitimate purchases are approved.
Q: Whom can I contact if I have questions or concerns about my Maine Highlands Federal Credit Union chip card?
A: Contact a Maine Highlands Federal Credit Union Member Service Representative at 888.806.6920
Visa Debit Card General Guidelines