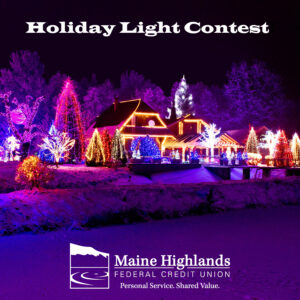 Join us at Maine Highlands FCU for our Holiday Light Contest!  This is a great way to celebrate the holiday season while social distancing!
Contest rules:
Contest is for members of Maine Highlands Federal Credit Union.
Must register (below) by December 7, 2020 to enter.
House to be judged must be within a 20 mile radius of one of our six offices.
Must have lights up by December 13, 2020 for our employees to judge.
Three winners from each office location will be announced by December 18, 2020. Winners will receive $100 for 1st place, $75 for 2nd place and $50 for 3rd place.
To register, please complete and submit this form