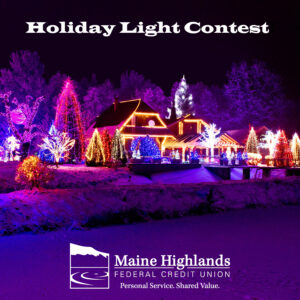 Contest rules:
-Contest is for members of Maine Highlands Federal Credit Union.
-Must register by December 6, 2021 to enter.
-Location to be judged must be within a 20 mile radius of one of our six offices in Dexter, Guilford, Dover-Foxcroft, Greenville, Brownville or Canaan.
-Must have lights up by December 10, 2021 for our employee/judges to view.
Register Below!
2021 Winners are:
Dexter – 1st place Barbara Wakefield, 2nd place Brian Kelso, 3rd place Cindy Bragg
Guilford – 1st place Linda Kain, 2nd place Joyce Barrett, 3rd place Tina Parker
Dover-Foxcroft – 1st place Dawna Roberts, 2nd place Richard McCloskey
Greenville – 1st place Eric Sherman, 2nd place Kathleen Green, 3rd place Ron & Rachel Greenlaw
Brownville – 1st place Cote Drake, 2nd place Lori L'Heureux, 3rd place Betty Perry
Canaan – 1st place Sonya Smith, 2nd place Hailey Robinson
CONGRATULATIONS!
Three winners from each branch location will be chosen on December 17, 2021!
Winners will receive:
1st place – $100
2nd place – $75
3rd place – $50